Your Ultimate Guide to FREE Keyword Research Training & Resources Updated For 2023
May 23, 2023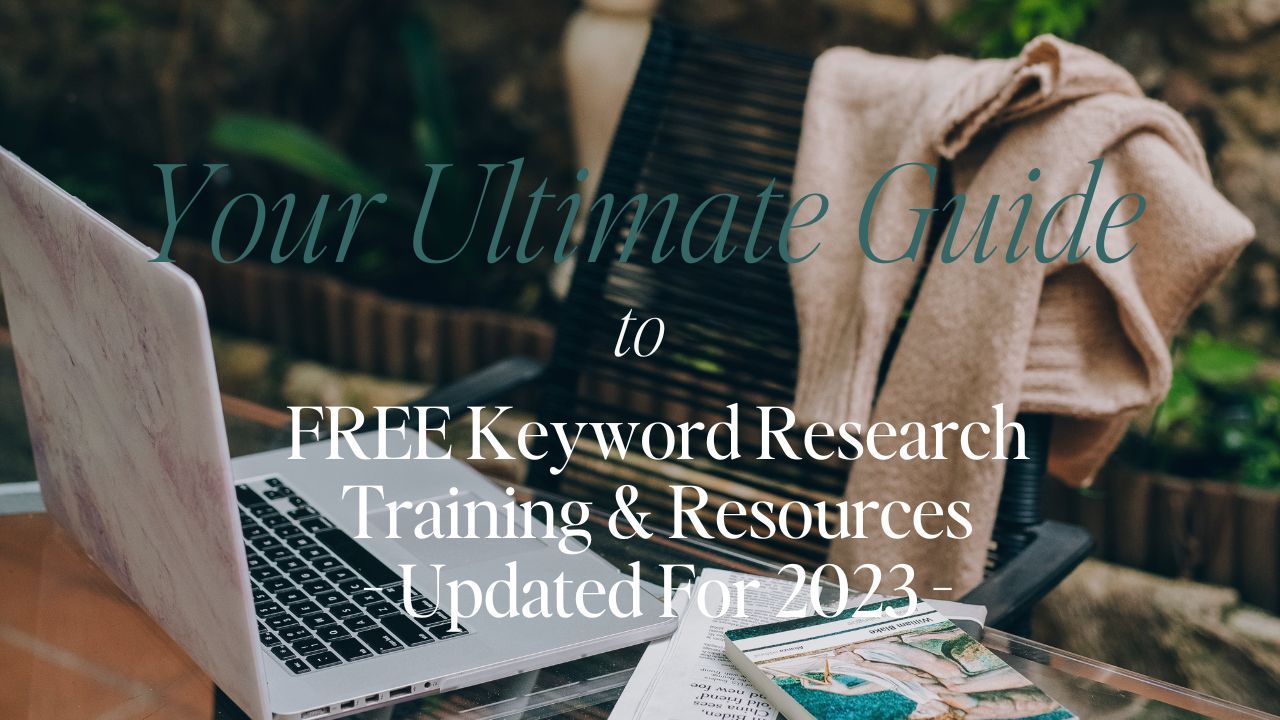 So you've heard of keyword research, and you might even have ventured as far as typing a word or two into one of the keyword research tools, and a spreadsheet full of indecipherable numbers and letters like KD, UR, DR, CTR, and Volume was thrown back at you.
And to add insult to injury, they want to charge you lots of money to confound you with even more unintelligible data you have absolutely no idea how to use to do all the things they promise, like get more traffic, get found by Google, and grow your business.
So, today, I'm going to share the very best free keyword research training out there, so you can get your head around what all those numbers and letters actually mean - it's super powerful stuff when the penny drops - and then, I'm going to share the best free keyword research tools and resources with you so you can get on with finding all those juicy keywords without breaking the bank.
Let's get stuck in then!
My Top 10 free keyword research trainings that are well worth a read (or a watch).
1. BACKLINKO - KEYWORD RESEARCH FOR SEO: THE DEFINITIVE GUIDE (UPDATED FOR 2021)
Brian Dean and his team over at Backlinko are pretty amazing for all things SEO. They've got a great newsletter and some pretty amazing free SEO and internet marketing training.
This free guide is definitive and super practical - it's split into 6 "chapters" or sections that show you how to find the right keywords for your business and use the keyword tools I've shared with you in the second section of this article. Well worth a read.
Keyword Research for SEO: The definitive guide ( 2023 Update)
2. SEMRUSH - THE ULTIMATE KEYWORD RESEARCH GUIDE FOR SEO
Semrush's Ultimate Keyword Research Guide is a cracker. It's super detailed and full of information. It will take you about 45 minutes or so to read through it, and it gives you a really deep dive into all things SEO Research.
If you stick with it, you'll know everything you need to do your own keyword research. A bit more advanced than some of the other guides I'm sharing, but if you've already got your head around the basics, this will be great to help take you to the next level.
The Ultimate Keyword Research Guide for SEO
3. AHREFS - HOW TO DO KEYWORD RESEARCH FOR SEO
The team at Ahrefs says that "keywords are the foundation of SEO. If nobody is searching for what you're writing about, you won't get traffic from Google—no matter how hard you try."
And I completely agree!
Here's a link to their beginner's guide to Keyword Research. Have a good read and use their free tools to get practicing.
How to Do Keyword Research for SEO
4. MOZ - THE SEO KEYWORD RESEARCH MASTER GUIDE
Another deep dive into Keyword Research from Moz, one of the SEO and Keyword Research powerhouses.
They have amazing training, tonnes of free resources, and a great newsletter, so have a read of the LONG article and get started with your keyword research.
It gets quite techy later on, but by that time, you'll have the basics down, so you'll get what they're going on about.
Here's the link.
The SEO Keyword Research Master Guide
5. SEJ - HOW TO DO KEYWORD RESEARCH FOR SEO: A STEP-BY-STEP GUIDE
You'll have to subscribe to Search Engine Journal to get this freebie, but it's worth being on their list as they put out some great information on what's happening in the world of SEO and trends you should be getting your head around.
This is a genuine step-by-step guide that takes you from the very basics of understanding what a keyword is to how to use it for social. It's also got an excellent section on local SEO.
Take a look by clicking this link.
How to Do Keyword Research for SEO: A Step-by-Step Guide
6. MANGOOLS - HOW TO DO KEYWORD RESEARCH FOR SEO: THE ULTIMATE GUIDE
Another great guide from SEO tool provider Mangools.
It's a great free guide and deals with the real basics to answer questions like "How do I find keywords" and "what do I do with keywords once I find them?"
It's another guide that's broken into chapters, so you avoid overwhelm, and you can find the subjects you need help with quickly.
Here's the link...
How to Do Keyword Research for SEO: The Ultimate Guide
7. HUBSPOT - HOW TO DO KEYWORD RESEARCH FOR SEO: A BEGINNER'S GUIDE
This is a great high-level introduction to how to get started with Keyword research. An ultimate guide it is not, but it points you in all the right directions and is a great quick read.
I recommend this if you just want to get acquainted with the basics of keyword research before you get stuck into the longer, more detailed guides I've suggested here.
Click on this link to find the blog.
How to Do Keyword Research for SEO: A Beginner's Guide
8. MOZ - KEYWORD RESEARCH THE BEGINNER'S GUIDE TO SEO
Another excellent guide to Keyword Research and SEO from Moz.
This guide gives you a much deeper dive into SEO itself and tells you how all the keyword research you're learning about fits into the broader picture.
If you want to learn more about SEO and not just keyword research, this is your guide.
It's another long read, so put aside an hour or two to get the most from it.
Here's the link.
Keyword Research The Beginner's Guide to SEO
9. NEIL PATEL - KEYWORD RESEARCH: HOW TO DO IT, TIPS, TOOLS & EXAMPLES
I love Neil Patel!
He explains everything so clearly, and it seems his mission is to make SEO and keyword research understandable for everyone.
He's big on practical takeaways and super clear explanations, so get ready to do some actual keyword research as you work through this guide.
And don't forget to sign-up for his newsletter; it's brilliant.
Keyword Research: How to Do It, Tips, Tools & Examples


10. AHREFS - KEYWORD RESEARCH TUTORIAL: FROM START TO FINISH
A YouTube video for you this time from Sam Oh at Ahrefs. He's a great teacher, and he takes you on an excellent tour of a searcher's journey through Google and how you use SEO to guide them to your site.
Well worth a watch. Just click on the link.
Keyword Research Tutorial: From Start to Finish


Now, let's take a look and see what tools you can use, for free, to put all this knowledge into action.
My top 10 free, tried, and tested (by me) keyword research tools.
1. AHREFS KEYWORD GENERATOR
I love Ahrefs. It's where I cut my teeth in terms of keyword research, and I can't recommend these free tools highly enough.
You can use the keyword generator for free to start with then there is a week-long trial for $7.
If you do your homework before you start your trial, so you know what you're looking for, you can get your keyword research done for free, or $7 at the most!
Click on the link for the free tool.
Ahrefs keyword generator
2. ANSWER THE PUBLIC
I'm so glad they got rid of the smirking creepy guy who used to hang around on the homepage of this site. I used to avoid using it because I felt he was staring at me!
It's now owned by Ubersuggest's Neil Patel, and I love how they describe what they do.
"Get Instant, Raw Search Insights, Direct From the Minds of Your Customer"
Pop your subject into the search box, and it comes back with a graphical representation showing the questions people are asking, which are essentially the words and phrases you need to use as a starter for your keyword research.
I need to be researching keywords like "what is SEO" and "will SEO exist in 5 years".
Enter your niche in the search box to find out what you need to be talking about.
You get two free searches a day and three free searches if you register with them. Of course, you can use the paid versions too.
Here's the link.
3. UBERSUGGEST
Ah, Neil Patel again. Ubersuggest is his SEO and keyword research tool that I use almost every day.
Ubersuggest has some great free search tools and is great if you're not planning on becoming an SEO strategist just yet.
Make your own mind up by clicking here.
4. MOZ
Another great free keyword research tool. You'll need to create a Moz account to access their free tools, but they are great.
And you'll get some great info and training from them too.
Again, play around with the free tools and decide on your favourite. Ahrefs, Ubersuggest, or Moz?
They are all great, but pick one and stick with it.
5. GOOGLE TRENDS
If you want your data straight from the horse's mouth, get yourself over to Google Trends.
Just click on the link I've given you below and enter your search term or topic into the box, and Google will show you what people are looking for.
If you put Megan and Harry (sorry, just curious to see if any IS actually interested!) into the search box, you'll see that people in Montana seem to be particularly curious!!!
6. BING WEBMASTER TOOLS
Bing's got lots of free tools you can use to understand what people in your target market are searching for, and the great news is, they're free.
Again, you'll have to create an account, but the tools are super easy to use once you're all set up.
Get going by clicking here.
7. ALSO ASKED
Also, Asked is great!
Have you ever noticed that box on the first page on Google's search results that says "People Also Asked"? Well, that is keyword research gold.
Say you're working in the travel industry and want to find out what your target market is searching for in terms of luxury beach holidays.
If you Google "luxury beach holidays", you'll get a bonus list of things people want to know about directly related to that search.
Look, this is what comes up, 4 really helpful suggestions for you.
But, if you use Also Asked, you'll get lots more. Sixteen weeks of blog content?!!
You get ten free searches a month, so plan out what you really want to know about and get asking.
Here's the link.
8. QUESTION DB
Let's be yoga teachers this time. Enter "Yoga Teachers" into Question DB, and you'll get 50 questions that people are searching for related to yoga teachers.
The results you get will give you amazing content ideas you can use straight away, or you can take these questions and do a bit more keyword research to make sure enough people are searching for these terms to make it worth your while writing about them.
Either way, it's a great tool.
What are you going to find out more about?
9. KEYWORD SURFER
I love keyword surfer. It's a Chrome extension you add to your browser that gives you excellent keyword suggestions.
It's similar to a much more expensive Ahrefs extension that I use, but this free tool gives you great functionality, and unless you need the expensive bells and whistles, I'd stick with this.
So, install the Keyword Surfer extension and then Google something to do with your niche.
Let's try googling "Empowerment Coach."
You'll see that in any content you write about Empowerment coaching, you should also include life coaching because lots of people are searching for it. In fact, over 12,000 people a month are looking for info on life coaching, so it's a great keyword to use.
Not only that, but Keyword surfer also uses AI to create article outlines that include all the key topics you should cover in an article about Empowerment coaching. I've found the ordering of the plan isn't great, but it's excellent for content topic suggestions.
10. SEMRUSH MAGIC KEYWORD TOOL
Here's another keyword research tool. Semrush's Keyword Magic Tool.
It's a great tool that you might want to pop one of the keywords you've found in Keyword Surfer or Question DB to see if it would work for your business.
Let's take Life Coaching, the keyword suggested by Keyword Surfer as something you add to a blog you write about Empowerment Coaching.
This shows you that it might be quite hard to rank for Life Coaching, but there is lots you can take away from these results. KD means keyword difficulty, and the easiest term you could rank for here is "the benefits of life coaching."
The best thing about Semrush's tool is that it tells you what people want to do when searching for something.
Searcher intent is a MASSIVE thing for Google at the moment, and Semrush's intent column shows you exactly what information you need to give to satisfy it.
C - Commercial - Investigate brands or services.
T - Transaction - Wants to complete a transaction
I - Information - The searcher wants an answer to a question.
So, with this in mind, you'd write an article on Empowerment Coaching, with a section on the benefits of life coaching that gave answers to their questions on that subject. Don't know what those questions are...look them up using the tools you've found out about in this article!
11. Google's Keyword Planner
Now this tool is meant to be used if you're running Google Ads, so it's not strictly an SEO tool, but it's great for getting keyword ideas you can then go on to run through some of the other keyword tools I've shared with you today to see if they have the right kind of volumes and difficulty levels for your business.
But I don't want to go down that rabbit hole just now.
Here's a link to the Google's Keyword Planner tool.
Go and have a play!
That's enough for you to be getting on with!
I've shared a LOT of free Keyword Research guides and resources with you, and the last thing I want to do is overwhelm you.
My advice to you would be to click on the links, have a quick look around and see who you like the look of. Everyone here has a very different style of teaching and tools that satisfy different strokes for different folks!
Find your favourite, and stick with them. None of them is any "better" than the other; they're all great.
I'll be running my Keywords Research Workalong next month, so look out for details, or comment below to let me know you're interested, and I'll put you on the waiting list.
Contact Sarah
Click here to leave me a message. I'll get back to you as soon as I can. thank you.
We hate SPAM. We will never sell your information, for any reason.